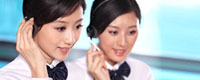 Name: Boon LEE
Tel: +86 731 28824932
Fax: +86 731 28824932
Mobile: +86 17707416929
E-mail: [email protected]
Add: 119# Songjiaqiao,Hetang District, zhuzhou City, Hunan Province,China
Skype: jayuoptical
MSN: [email protected]
QQ: 584861363





JAYU OPTICAL MATERIAL CO.,LIMITED located in Zhuzhou City,Hunan Province,China . We are specializing in researching, producing and selling vacuum evaporation and optical coating material over 10 years, it has been able to research, produce and sell such series of coating materials as resistance evaporation, electron gun flash and magnetron sputtering to meet the demands of market.It pays more attention to communicate with advanced coating enterprises to pursue the continuous researching ability.

We produce and sell over 50 kinds of coating materials. The main products of our company are optical vacuum coating materials, such as: zinc sulfide (ZnS), trititanium pentoxide(Ti3O5), zinc selenide(ZnSe), titanium monoxide(TiO), titanium dioxide(TiO2), titanium sesquioxide(Ti2O3), silicon dioxide(SiO2), silicon monoxide(SiO), zirconium dioxide(ZrO2), zirconium oxide(ZrO), magnesium fluoride(MgF2), aluminium oxide(Al2O3), niobium pentoxide(Nb2O5), tantalum pentoxide(Ta2O5), indium tin oxide(ITO), etc. The specifications of every product are complete, which can satisfy different requirements of our clients. The strict quality control makes JAYU a leading corporation in the optical coating material field.

Our products' quality and service standard has been well-known in domestic and abroad market and earned the tremendous international reputation. During more than ten years in the this industry, our products are very appreciated in the market of USA, Brazil ,Germany ,the UK,Poland , Finland,Japan,Malaysia and thailand etc.

Welcome new and old customers to inquire us with detailed requirements.