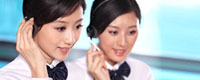 Name: Boon LEE
Tel: +86 731 28824932
Fax: +86 731 28824932
Mobile: +86 17707416929
E-mail: [email protected]
Add: 119# Songjiaqiao,Hetang District, zhuzhou City, Hunan Province,China
Skype: jayuoptical
MSN: [email protected]
QQ: 584861363





Product name : Nano tungsten carbide powder

Product No. : 2015916233826

Purity :

Size :

Surface :

Status :

Packing :
Details:
WC Powder
Technical Parameters
Model

APS

Purity(%)

Specific surface(m2/g)

Volume density(g/cm3)

Density(g/cm3)

Crystal form

Color

NO-C-005-1

200nm

99.9

60

3.2

13

hexagon

black

NO-C-005-2

1um

99.9

21

4.9

13

hexagon

black

Note: If the user needs the other particle size , the company provides customized production
Product performance
Product powder of high purity, uniform particle size, dispersion, and is an important raw material for the production of carbide, carbide nano-tungsten carbide powder can have many more excellent features, insoluble in water, acid resistance, high hardness, elastic modulus large. In addition to the high hardness of tungsten carbide outside, there are wear-resistant, corrosion-resistant, high temperature and other characteristics.
Application direction
1Nano-tungsten carbide used in composite materials to improve their performance: nano-tungsten carbide - cobalt composite powder was prepared by high-performance carbide and a wear-resistant coating of the main raw material. Nanostructured WC - Co composite powder is used as a coating material shows excellent wear-resistant effect, the use of rapid melting, thermal spray coating Preparation of rapid cooling, the powder properties of the nano structure is maintained, and thus significantly improve the hard carbide wear-resistant coating performance. Domestic production of nano-tungsten carbide - cobalt composite powder products have been used in the preparation of carbide and wear-resistant coating. Such as: cutting tools, computers, machinery and other industries;
2 suitably machined tungsten carbide at high temperature, the cutting tool can be produced, the structure of the furnace material, jet engines, gas turbines, such as nozzles.
Storage conditions
This product is an inert gas antistatic packaging should be sealed and stored in a dry, cool environment, not long-term exposure to air, anti-damp occurred reunion, affect the dispersion properties and effects.